ONCE
A DRAGON,
Always
a Dragon
From presenting research at the World Conference on Public Health to starring in London's West End, this term's OD updates range from 1983 to 2021.
Anya Katanyutanon (OD 2021)
Anya presented her research findings at the 2022 World Conference on Public Health (WCPH). 
As a Year 10 student, Anya was introduced to a research project concerning colorectal cancel during her time volunteering in Rangsit University, Thailand. Her research examines the cancer effects of the turmeric plant on colorectal cancer.  
"Even though a wide range of chemotherapeutic drugs already exist, cancer cells are able to develop drug resistance, which is why exploring new medication is essential." 
Anya applied to talk about her research project, which was carried out over a few days, at the 2022 WCPH. She was successful and gave an online presentation on the abstract 'Antiproliferative effect of Curcuma longa' and her findings last December.
Anya's research has since been published following her attendance at the Food and Bioactive Health Conference 2023. As the youngest attendee, she received quite a lot of attention and support from the fellow researchers and lecturers there and was challenged with questions and given advice encouraging her to continue her growth in the research area.
Congratulations, Anya!
Photo: Anya Katanyutanon
Congratulations to Gabriel George who was selected for the GB U19 Eight to row in the World Championships in August and subsequently won gold! 
Photo Credit: British Rowing
Sebastian Croft (OD 2015)
We're delighted to hear Bash will be back on our screens in 2024 in his role as Archie in Amazon Prime's 'How to Date Billy Walsh'.
Directed by Alex Sanjiv Pillai, the movie revolves around teenager Archie (played by Bash), who's secretly in love with his best friend Amelia (Charithra Chandran). Archie has always been there to fight Amelia's battles, laugh at her jokes, whilst constantly striving for her love and affection. Archie has been in love with his best friend for as long as he can remember," the official synopsis reads.
We've loved having Bash on our screens in Heartstopper, but after a dramatic season 2 arc, it has been confirmed that he won't be returning for season 3.
Photo Credit: Sebastian Croft as Archie. Matt Squire/ Amazon Studios
Maggie McGuinness (OD 2018)
Congratulations to Maggie on competing for GB in rowing at the Coupe De La Jeunesse in both 2022 and 2023. She is currently studying at the University of Pennsylvania and still very much enjoying her rowing.
James Cunningham (OD 2012)
Congratulations to James, who scored his first Premier League goal this September against Surbiton. According to Mr Dunleavy, it was a good'n!
Congratulations to William on completing an incredible challenge and a huge achievement. Taking part in the UTMB* (Ultra, Trail-running and Mont-Blanc), William ran 107 miles around Mont Blanc, spanning France, Italy and Switzerland in 38 hours and 51 minutes!  
🏃🏻107 miles completed in 38 hours and 51 minutes 
🏔️ 10015 metres of elevation gain (1.1 x Mt. Everest) 
🍲 4 hours 13 of refeeding and recovery 
💤 0 hours of sleep 
What an incredible challenge, and huge achievement. Congratulations William! 
*Tour du Mont-Blanc (TMB) is where inspiration for UTMB® came from. Originally the idea was to run the TMB in one single shot, individually, via the footpaths in a maximum of 46 hours. Today's 171 km route, and the 10,000m of cumulated vertical, remain an extraordinary adventure.
Photo Credit: Jonny Ragby, LinkedIn
We were delighted to learn that a Dragon will be treading the West End boards once again next year, as Michael will stars in The Choir of Man. The smash-hit show is back in London, playing at the Arts Theatre.
Michael trained at Trinity College and the Royal Academy of Music. His theatre credits include Cinderella (Gillian Lynne Theatre); Waitress (Adelphi Theatre); Hairspray (Pimlico Opera); The Last Five Years (Millennium Centre);  Legally Blonde – The Musical (UK Tour)
As one of nine performers, Michael will treat audiences to some brilliant renditions of hit songs by Guns 'N' Roses, Adele, Avicii, Paul Simon, Sia, and more.   
The Choir of Man is booking until 18 February 2024 at the Arts Theatre, London. 
Photo Credit: The Other Richard.
Ben is currently in East Ukraine working for a non-profit that provides winter uniforms, 4x4s, and tactical medical supplies to army units. They are an officially registered NGO called Blagula Bilen (Blue Yellow Car).
General Roland Walker KCB DSO

(OD 1984)
After a distinguished career in the armed forces, showcasing all of the values of ambition, courage, and respect that we instill in our young Dragons today, we send huge congratulations to Lieutenant General Roland Walker KCB DSO (OD 1983) and wish him all the very best in the next steps of his career. 
 General Roland Walker KCB DSO (OD 1984) has been selected as the next Chief of the General Staff – the head of the British Army.
Photo Credit: OGL
Diary Dates
From regular reunions to Dragon Drinks, Remembrance Sunday to the Dragon Sale, there are lots of opportunities to come back to Bardwell Road.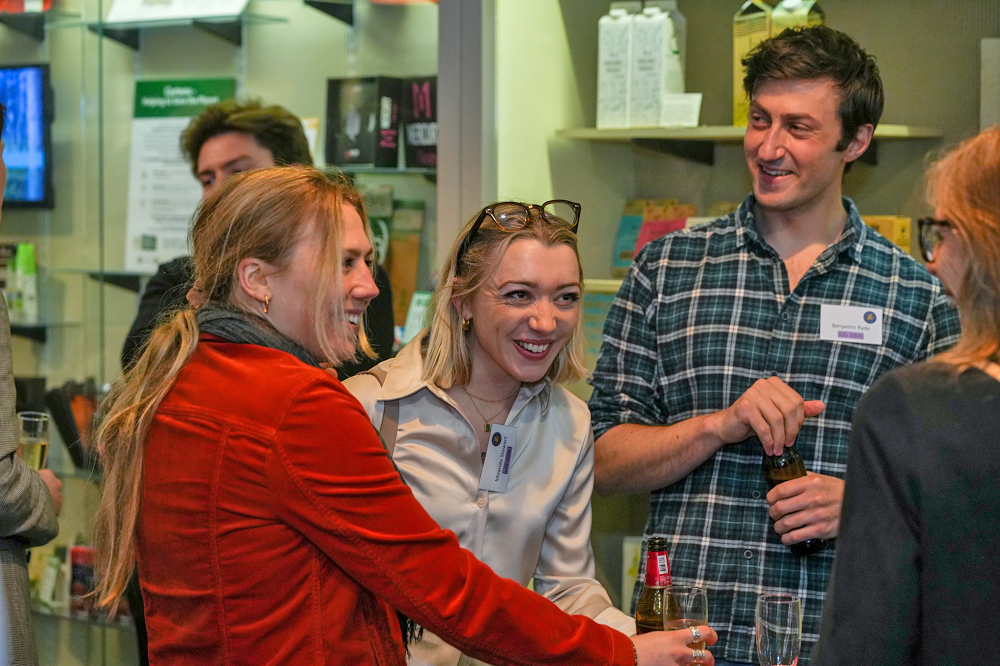 Keep In Touch
Moved house? Changed Email? Update your details to keep connected with the Dragon.
Support Us
In 1886, it was parents' faith and financial support which enabled the fulfilment of an extraordinary vision – to found a school that would inspire and nurture each child's unique gifts.